An Interview with Writopia Lab Founder Rebecca Wallace-Segal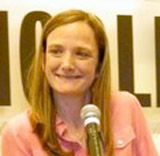 I enjoyed a recent conversation with Rebecca Wallace-Segal, founder of New York based Writopia Lab. Here's an excerpt:
Jim:
Thinking back to how you were educated, and then thinking about it as a parent, what you might do differently given what you know now.
Rebecca:
Going on the record, this is something I think about everyday. I grew up in the New York City public school system. Let me think about how to answer this question.
I think my parents, everyone around me, made the best choices that they could make, and everyone was trying the best that they could. I didn't feel cared about. My classes were large, and so I didn't have personal relationships with my teachers, starting in fifth grade. I did when I was younger, but then as the classes grew bigger, I didn't feel anything nurturing from them. It wasn't until I went to college that I started to develop really close relationships with my professors, in graduate school.
Then I ended up working in private schools for a couple of years before I started Writopia, and I really understood how schools that are philosophically-driven, mission-driven, can create such a different world for kids. That's why I'm encouraging parents to go to the principal.
I think the principal even of any school can bring a culture to a school. Maybe that's where we should be starting. The power that the principal has...if the school doesn't have a mission, doesn't have a philosophy, like this is the kind...
. Transcript
Posted by Jim Zellmer at December 21, 2012 8:53 PM
Subscribe to this site via RSS/Atom:

Newsletter signup | Send us your ideas