Interview: Henry Tyson, Superintendent of Milwaukee's St. Marcus Elementary School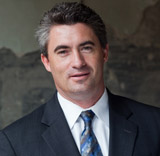 Henry Tyson, Superintendent of Milwaukee's St. Marcus school recently talked with me [Transcript | mp3 audio] about his fascinating personal and professional education experience. St. Marcus is one of, if not the most successful voucher school in Milwaukee.
Henry discussed student, parent and teacher expectations, including an interesting program to educate and involve parents known as "Thankful Thursdays". He further described their growth plans, specifically, the methods they are following to replicate the organization. In addition, I learned that St. Marcus tracks their students for 8 years after 8th grade graduation.
Finally, Henry discussed special education and their financial model, roughly $7,800/student annually of which $6,400 arrives from State of Wisconsin taxpayers in the form of a voucher. The remainder via local fundraising and church support.
He is quite bullish on the future of education in Milwaukee. I agree that in 15 to 20 years, Milwaukee's education environment will be much, much improved. High expectations are of course critical to these improvements.
I appreciate the time Henry took to visit.
Related:
Posted by Jim Zellmer at June 25, 2012 5:19 AM
Subscribe to this site via RSS/Atom:

Newsletter signup | Send us your ideas