The Day After: What's Next for Madison's Public Schools?
Kaleem Caire, via a kind email:
Dear Friends & Colleagues.

With one of the most competitive and expensive school board races in the history of the Madison Metropolitan School District now behind us, it is time for us to get to work on strengthening public education in our capital city and ensuring that every single one of our children have the schools and tools they need to succeed in education and in life.

We congratulate Mary Burke and Arlene Silveira for their success in securing three-year terms on the Madison Board of Education. They will bring significant experience and business acumen to the School Board. We also give great respect to their challengers, Nichelle Nichols and Michael Flores, for stepping up, taking a stand for children and ensuring that the voices of parents and children of color were front and center during the campaign. They ensured that the discussion remained focused on the alarming racial achievement gap that exists in our schools, and we deeply appreciate them for it.

As the Board of Education moves forward, we expect they will remain focused on our community's five greatest priorities: (1) eliminating the racial achievement gap; (2) establishing world class schools that attract enrollment and prepare all children to thrive and succeed in college and work after high school; (3) empowering parents and engaging them in their children's education; (4) developing a highly talented and skilled workforce that is more reflective of the students our school district now educates; and (5) aligning the District's employee handbook to the priorities, needs and goals of students, staff and schools.

The Board of Education can start by focusing their efforts on hiring an outstanding new Superintendent who possesses significant leadership skill/experience and business acumen, a proven track-record of successfully leading urban schools with significantly diverse student populations; and a strong, clear and compelling vision and plan for public education and our children's future.

Rather than deciding too quickly on approving an achievement gap plan that was rushed in its development, we hope the Board of Education will avoid getting too far ahead of the next Superintendent in implementing plans, and instead focus their attention on existing efforts where the District can make a difference in the next six months, such as:

Implementing the Common Core Standards and related common curriculum in literacy, English/language arts and mathematics in all elementary schools in grades K-5 (to start), with additional learning support for students who are significantly behind or ahead academically;
Re-establishing and aligning the District's Professional Development Program for all educators and support staff to the curriculum, standards and needs/interests of students;
Implementing Wisconsin's new Educator Effectiveness evaluation and assessment program;
Providing a full-time principal and adequate staffing for Badger Rock and Wright Middle Schools;
Requiring greater collaboration and alignment between the District's safety-net, student-support programs such as Schools of Hope, AVID/TOPS, Juventud/ASPIRA, PEOPLE/ITA Program and ACT Prep Academies to ensure more effective and seamless identification, support and progress monitoring of students who need or are enrolled in these programs;
Partnering with local businesses, educational institutions and community organizations to recruit, hire, acclimate and retain a diverse workforce, and appropriately assign all staff to schools according to their skills and interests and the needs of students;
Engaging parents more effectively in the education of their children through community partnerships; and
Partnering with the United Way, Urban League, Boys & Girls Club, Centro Hispano, Hmong Education Council and other agencies to effectively build awareness and educate the community about local and national best practices for eliminating the achievement gap and preparing all youth for college and work.

We look forward to working with YOU, the Board of Education, our community partners and the leadership of our public schools to implement immediate opportunities and solutions that will benefit our children TODAY.

Onward!

Kaleem Caire
President & CEO
Urban League of Greater Madison
Phone: 608-729-1200
Assistant: 608-729-1249
Fax: 608-729-1205
www.ulgm.org
Related:
An expected outcome.
Thanks to the four citizens who ran.
The Silveira/Nichols race was interesting in that it was the first competitive school board election involving an incumbent in some time. Lawrie Kobza and Lucy Mathiak defeated incumbent candidates during the mid-2000's. Perhaps the "success recipe" requires that the insurgent candidate have a strong local network, substantive issues and the ability to get the word out, effectively.
Arlene is a different incumbent than those defeated by Kobza & Mathiak.
That said, she has been on the board for six years, a time during which little, if any progress was made on the MMSD's core mission: reading, writing, math and science, while spending more per student than most Districts. Perhaps the Superintendent's looming departure offers an opportunity to address the core curricular issues.
I wish the new board well and congratulate Mary and Arlene on their victories.
Paraphrasing a friend, it is never too early to run for the School Board. Three seats are up in 2013, those currently occupied by Maya Cole, James Howard and Beth Moss.
A reader emailed a link to this M.P. King photo: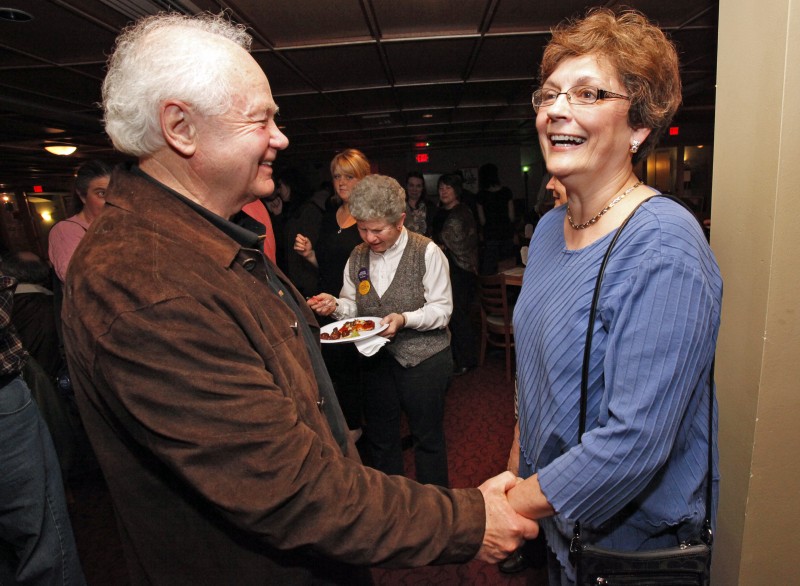 Posted by Jim Zellmer at April 4, 2012 11:39 AM
Subscribe to this site via RSS/Atom:

Newsletter signup | Send us your ideas