Positioning The Madison School District's 2012-2013 Budget
Madison School District officials hope to avoid layoffs and spare employees from contributing to their health insurance premiums next school year, though to do so they might have to raise property taxes.

Superintendent Dan Nerad won't make his preliminary budget recommendations until April 1, but in its first look at the 2012-13 school budget, the district is projecting a $12.4 million deficit based on current budget trends.

Factoring in rising insurance and fuel costs, the district projects general fund spending of $319.7 million, up from $310.9 million this year. Revenues are projected to be $307.3 million.

The district is looking at several options to close the gap, such as eliminating its most expensive health insurance option, renegotiating nonunion employee contracts, energy efficiency projects, refinancing debt and raising property taxes, said Erik Kass, assistant superintendent for business services.

"The hope is we won't have to take more out of employee pockets or do any layoffs," Kass said.
Unfortunately, DeFour's article does not include the District's total proposed spending, rather it mentions just one portion. It would be better to not mention such incomplete numbers, rather than further muddying the often challenging budget "transparency". The District will spend
roughly $370,000,000 +/- a few million in 2011-2012
:
2011-2012 Revised Budget 1.3MB PDF (Budget amendments document). District spending remains largely flat at $369,394,753, yet "Fund Equity", or the District's reserves, has increased to $48,324,862 from $22,769,831 in 2007 (page 24). The District's property tax "underlevy" (increases allowed under Wisconsin school revenue limits which are based on student population changes, successful referendums along with carve-outs such as Fund 80, among others) will be $13,084,310. It also appears that property taxes will be flat (page 19) after a significant 9% increase last year. Interestingly, MSCR spending is up 7.97% (page 28).

2011-2012 enrollment is 24,861. $369,394,753 planned expenditures results in per student spending of $14,858.40.
Related:
Wisconsin Property Tax Growth: 1984-2012 (!)
.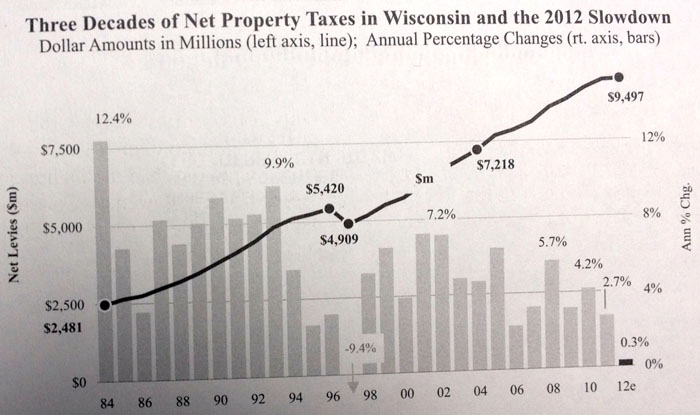 Posted by Jim Zellmer at January 23, 2012 8:22 PM
Subscribe to this site via RSS/Atom:

Newsletter signup | Send us your ideas