Some Madison Teachers & Some Community Members (*) on the Proposed Madison Preparatory Academy IB Charter School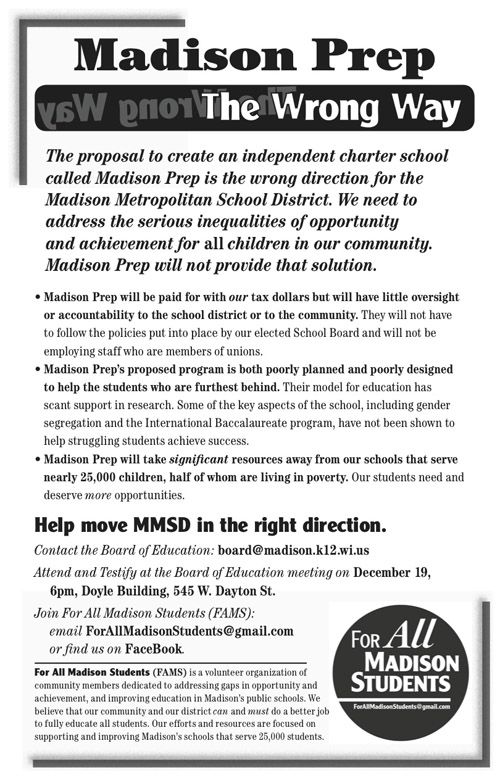 200K PDF File, via a kind reader.
Madison Teacher's Inc. Twitter feed can be found here.
Much more on the proposed Madison Preparatory Academy IB charter school, here.
* Please see TJ Mertz's comment below. A link to the document was forwarded to me via a kind reader from Madison Teachers, Inc. Twitter Feed (a "retweet" of Karen Vieth's "tweet"). Note that I enjoyed visiting with Karen during several Madison School District strategic planning meetings.
A screenshot of the link: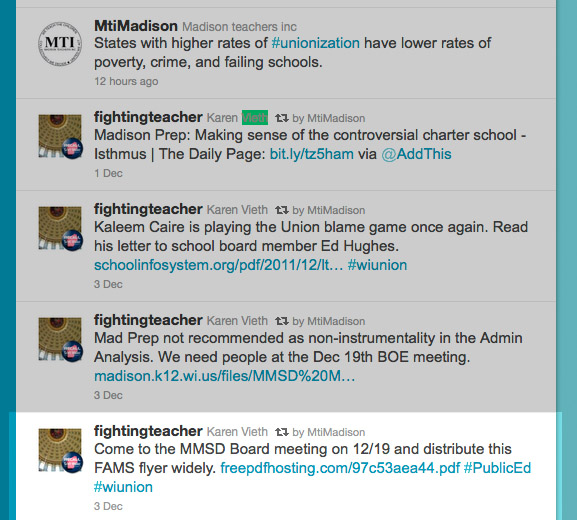 The outcome of the Madison Prep "question" will surely reverberate for some time.
Finally, I suspect we'll see more teacher unions thinking different, as The Minneapolis Federation of Teachers has done: Minneapolis teacher's union approved to authorize charter schools.
Posted by Jim Zellmer at December 8, 2011 3:49 AM
Subscribe to this site via RSS/Atom:

Newsletter signup | Send us your ideas