"Transparency Central" National Review of Education Schools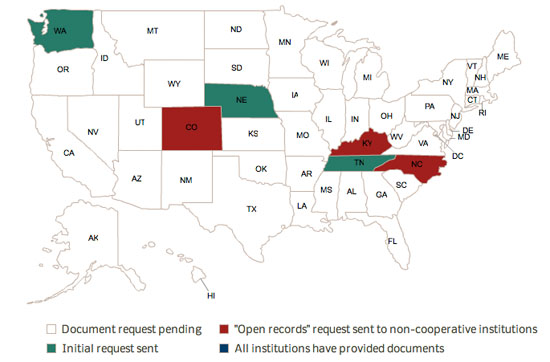 The National Council on Teacher Qualty:
Higher education institutions, whether they are private or public, have an obligation to be transparent about the design and operations of their teacher preparation programs. After all, these institutions have all been publicly approved to prepare public school teachers.

Here at Transparency Central, you can keep track of whether colleges and universities are living up to their obligation to be open. Just click on a state to learn more about the transparency of individual institutions there.

NCTQ is asking institutions to provide documents that describe the fundamental aspects of their teacher preparation programs: the subject matter teachers are supposed to know, the real-world classroom practice they are supposed to get, the outcomes that they achieve once they enter the classroom. Taken together, the evidence we gathering will answer a key question: Are individual programs setting high expectations for what new teachers should know and be able to do for their students?

A number of institutions have let us know that they do not intend to cooperate with our review, some even before we formally asked them for documents. As a result, we have begun to make open records requests using state "sunshine" (or "freedom of information act") laws.

We'll be regularly updating our progress, so come back soon to learn more about our efforts to bring transparency to teacher prep.
Related:
Posted by jimz at April 29, 2011 8:25 AM
Subscribe to this site via RSS/Atom:

Newsletter signup | Send us your ideas