Madison School District Outbound Open Enrollment Applications 2010-2011 School Year; As of 3/18/2010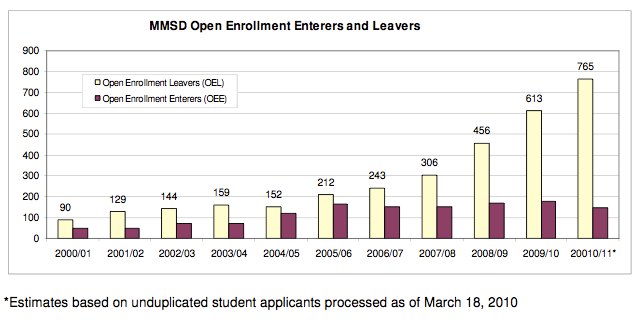 Complete Report 36k PDF, via a kind reader:
The pattern of an increasing number of open enrollment transfer applications continued this spring. As of March, 18, 2010 there were 765 unique resident MMSD students applying to attend non-MMSD districts and schools. The ratio of number of leaver applications to enterer applications is now 5:1.

It is important to note that not all applications result in students actually changing their district or school of enrollment. For example, for the 2009-10 school year although 402 new open enrollment students were approved by both MMSD and the non-resident districts to attend the non-resident district, only 199 actually were enrolled in the non-resident district on the third Friday September 2009 membership count date. Still, the trend has been upward in the number of students leaving the district.
Related:
2009 Madison School District Outbound Open Enrollment Parent Survey
.
A school district's student population affects its tax & spending authority.
Posted by Jim Zellmer at March 23, 2010 7:58 PM
Subscribe to this site via RSS/Atom:

Newsletter signup | Send us your ideas