6th Annual AP Report to the Nation: Maryland Finishes #1
The College Board [1MB PDF file]:
Educators across the United States continue to enable a wider and more ethnically diverse proportion of students to achieve success in AP®. Significant inequities remain, however, which can result in traditionally underserved students not receiving the type of AP opportunities that can best prepare them for college success. The 6th Annual AP Report to the Nation uses a combination of state, national and AP Program data to provide each U.S. state with the context it can use to celebrate its successes, understand its unique challenges, and set meaningful and data-driven goals to prepare more students for success in college.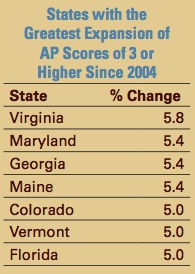 Posted by Jim Zellmer at February 11, 2010 4:45 AM
Subscribe to this site via RSS/Atom:

Newsletter signup | Send us your ideas