The Madison School District = General Motors?
A provocative headline.
Last Wednesday, Ripon Superintendent Richard Zimman spoke to the Madison Rotary Club on "What Wisconsin's Public Education Model Needs to Learn from General Motors Before it is too late." 7MB mp3 audio (the audio quality is not great, but you can hear the talk if you turn up the volume!).
Zimman's talk ranged far and wide. He discussed Wisconsin's K-12 funding formula (it is important to remember that school spending increases annually (from 1987 to 2005, spending grew by 5.10% annually in Wisconsin and 5.25% in the Madison School District), though perhaps not in areas some would prefer.
"Beware of legacy practices (most of what we do every day is the maintenance of the status quo), @12:40 minutes into the talk - the very public institutions intended for student learning has become focused instead on adult employment. I say that as an employee. Adult practices and attitudes have become embedded in organizational culture governed by strict regulations and union contracts that dictate most of what occurs inside schools today. Any impetus to change direction or structure is met with swift and stiff resistance. It's as if we are stuck in a time warp keeping a 19th century school model on life support in an attempt to meet 21st century demands." Zimman went on to discuss the Wisconsin DPI's vigorous enforcement of teacher licensing practices and provided some unfortunate math & science teacher examples (including the "impossibility" of meeting the demand for such teachers (about 14 minutes)). He further cited exploding teacher salary, benefit and retiree costs eating instructional dollars ("Similar to GM"; "worry" about the children given this situation).
Zimman noted that the most recent State of Wisconsin Budget removed the requirement that arbitrators take into consideration revenue limits (a district's financial condition @17:30) when considering a District's ability to afford union negotiated compensation packages. The budget also added the amount of teacher preparation time to the list of items that must be negotiated..... "we need to breakthrough the concept that public schools are an expense, not an investment" and at the same time, we must stop looking at schools as a place for adults to work and start treating schools as a place for children to learn."
In light of this talk, It has been fascinating to watch (and participate in) the intersection of:
Several years ago, former Madison Superintendent
Art Rainwater
remarked that "sometimes I think we have 25,000 school districts, one for each child".
I found Monday evening's school board meeting interesting, and perhaps indicative of the issues Zimman noted recently. Our public schools have an always challenging task of trying to support the growing range of wants, needs and desires for our 24,180 students, staff members, teachers, administrators, taxpayers and parents. Monday's topics included:
I've not mentioned the potential addition of 4K, high school redesign or other topics that bubble up from time to time.
In my layperson's view, taking Zimman's talk to heart, our public schools should dramatically shrink their primary goals and focus on only the most essential topics (student achievement?). In Madison's case, get out of the curriculum creation business and embrace online learning opportunities for those students who can excel in that space while devoting staff to the kids who need them most. I would also like to see more opportunities for our students at MATC, the UW, Edgewood College and other nearby institutions. Bellevue (WA) College has a "running start" program for the local high school.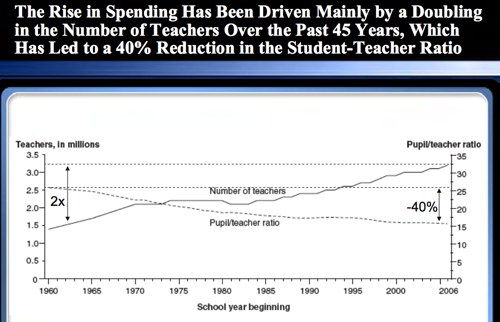 Chart via Whitney Tilson.
Richard Zimman closed his talk with these words (@27 minutes): "Simply throwing more money at schools to continue as they are now is not the answer. We cannot afford more of the same with just a bigger price tag".
General Motors as formerly constituted is dead. What remains is a much smaller organization beholden to Washington. We'll see how that plays out. The Madison School District enjoys significant financial, community and parental assets. I hope the Administration does just a few things well.
Posted by Jim Zellmer at August 12, 2009 4:01 AM
Subscribe to this site via RSS/Atom:

Newsletter signup | Send us your ideas