Madison School District's Strategic Planning Process, An Update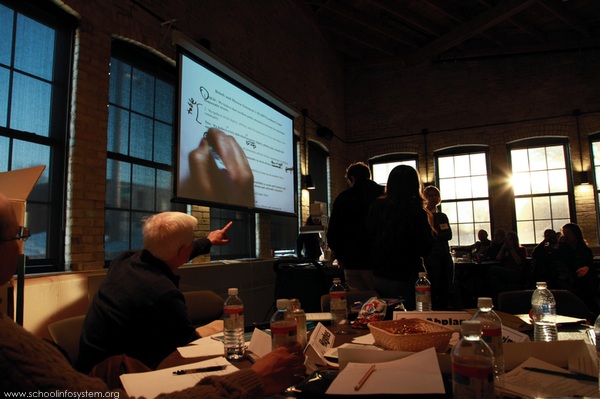 I was honored to be part of the Madison School District's "Strategic Planning Process" this weekend. More than 60 community members, students, parents, board members and district employees participated.
The process, which included meetings Thursday (1/29/2009) from 8 to 6 Friday (1/30/2009) from 8 to 5 and Saturday (1/31/2009) from 8 to 12, thus far, resulted in the following words:
MMSD Mission Statement (1/30/2009):
Our mission is to cultivate the potential in every student to thrive as a global citizen by inspiring a love of learning and civic engagement, by challenging and supporting every student to achieve academic excellence, and by embracing the full richness and diversity of our community.
Draft Strategic Priorities
1. Student:
We will eliminate the achievement gap by ensuring that all students reach their highest potential. To do this, we will prepare every student for kindergarten, create meaningful student-adult relationships, and provide student-centered programs and supports that lead to prepared graduates. (see also student outcomes)
2. Resource/Capacity:
We will rigorously evaluate programs, services and personnel through a collaborative, data-driven process to prioritize and allocate resources effectively and equitably, and vigorously pursue the resources necessary to achieve our mission.
3. Staff
We will implement a formal system to support and inspire continuous development of effective teaching and leadership skills of all staff who serve to engage our diverse student body while furthering development of programs that target the recruitment and retent ion of staff members who reflect the cultural composition of our student body.
4. Curriculum
We will revolutionize the educational model to engage and support all students in a comprehensive participatory educational experience defined by rigorous, culturally relevant and accelerated learning opportunities where authentic assessment is paired with flexible instruction.

5. Organization/Systems:
We will proudly leverage our rich diversity as our greatest strength and provide a learning environment in which all our children experience what we want for each of our children. We will:
Provide a safe, welcoming learn ing environment
Coordinate and cooperate across the district
Build and sustain meaningful partnerships throughout our community
Invite and incorporate (require) inclusive decision-making
Remain accountable to all stakeholders
Engage community in dialogue around diversity confront fears and misunderstandings
Posted by Jim Zellmer at January 31, 2009 1:25 PM
Subscribe to this site via RSS/Atom:

Newsletter signup | Send us your ideas