Madison Math Program Public Input Session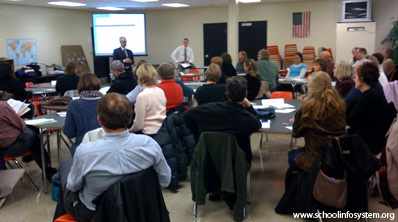 The Madison School District Administration held a public input session on the recent Math Task Force report [3.9MB PDF] last evening at Memorial High School. Superintendent Dan Nerad opened and closed the meeting, which featured about 56 attendees, at least half of whom appeared to be district teachers and staff. Math Coordinator Brian Sniff ran the meeting.
Task force member and UW-Madison Professor Mitchell Nathan [Clusty Search] was in attendance along with Terry Millar, a UW-Madison Professor who has been very involved in the Madison School District's math programs for many years. (Former Madison Superintendent Art Rainwater recently joined the UW-Madison Center for Education Research, among other appointments). UW-Madison Math professor Steffen Lempp attended as did school board President Arlene Silveira and board members Ed Hughes and Beth Moss. Jill Jokela, the parent representative on the Math Task Force, was also present.
Listen via this 30MB mp3 audio file. 5.5MB PDF Handout.
Related:
Posted by Jim Zellmer at January 8, 2009 3:55 PM
Subscribe to this site via RSS/Atom:

Newsletter signup | Send us your ideas