You are Invited: Varsity Academics in Madison Tonight, 11/19 @ 7:00p.m.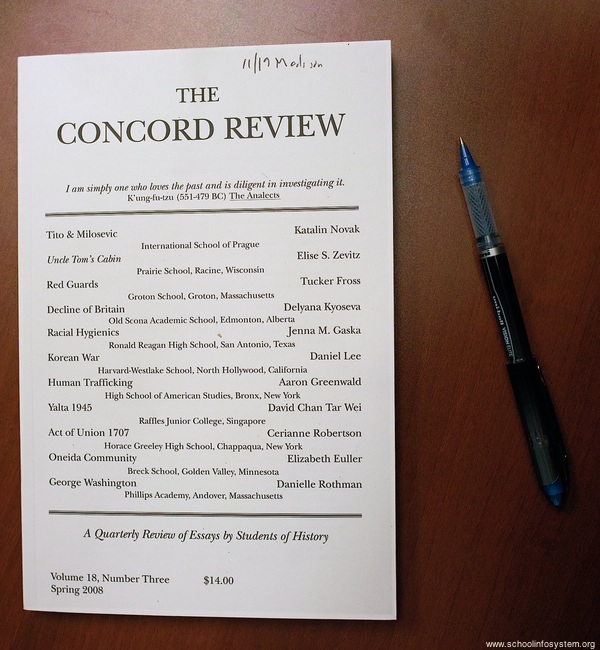 Wednesday, November 19, 2008; 7:00p.m. in Madison. [PDF Flyer]
Lecture Hall 1345
Health Sciences Learning Center (HSLC)
750 Highland Avenue Madison, WI [Map]
We hope that Mr. Fitzhugh's appearance will create new academic opportunities for Wisconsin students.
Parking
Metered parking is available at the University Hospital (UWHC) Patient/Visitor Lot [Map], just south of the HSLC. Free parking is available in Lot 85, across the street from the HSLC and next to the Pharmacy Building at 2245 Observatory Drive [Map].
About the Speaker:
Low standards led Will Fitzhugh to quit his job as a history teacher in 1987 and begin publishing the journal [The Concord Review] out of his home in Concord, Mass.
Concerned that schools were becoming anti-intellectual and holding students to low standards, he thought the venture could fuel a national--even international--interest in student research and writing in the humanities.
"As a teacher, it is not uncommon to have your consciousness end at the classroom wall. But I came to realize that there was a national concern about students' ignorance of history and inability to write," he said.
During his 10 years of teaching at Concord-Carlisle High School, the 62-year-old educator said in a recent interview, he always had a handful of students who did more than he asked, and whose papers reflected serious research.
Those students "just had higher standards, and I was always impressed by that," Mr. Fitzhugh said. "I figured there have got to be some wonderful essays just sitting out there. I wanted to recognize and encourage kids who are already working hard, and to challenge the kids who are not."
Fitzhugh will discuss the problems of reading, writing and college readiness at the high school level. There will be an extended discussion period.
For more information, or to schedule some time with Mr. Fitzhugh during
his visit, contact Jim Zellmer (608 213-0434 or zellmer@gmail.com), Lauren Cunningham (608 469-4474) or Laurie Frost (608 238-6375).
Posted by Jim Zellmer at November 19, 2008 10:47 AM
Subscribe to this site via RSS/Atom:

Newsletter signup | Send us your ideas