Quality Counts State K-12 Survey: Wisconsin = C+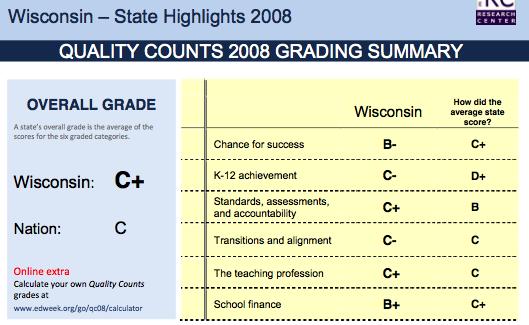 Editorial Projects in Education Research Center [1.2MB PDF]:
The 12th annual edition of Education Week's Quality Counts continues the cradle-to-career framework launched in last year's report. But it also reintroduces some of the categories in which we have graded states in the past, though some of the indicators and the grading have changed. The cradle-to-career perspective emphasizes the connections between K-12 education and other systems with which it intersects: preschool education, other social and economic institutions, and further education and training.

To emphasize this approach, the Editorial Projects in Education Research Center last year created two new state-performance measures: the Chance-for-Success Index and the K-12 Achievement Index. These indicators, respectively, capture key learning foundations and outcomes at various stages in a person's life and the performance of the states' public schools. Coupled with that heightened attention to outcomes, the 2007 edition of Quality Counts examined a series of policies that states could pursue to better align public education from preschool to postsecondary education and into the workplace.
Posted by Jim Zellmer at January 10, 2008 12:00 AM
Subscribe to this site via RSS/Atom:

Newsletter signup | Send us your ideas