Karin Chenoweth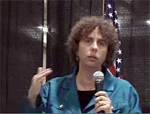 mp3 audio file

Drs. Sally and Bennett Shaywitz

mp3 audio file
October 12/13 Conference Information:
Extraordinary progress in understanding the nature of reading and dyslexia, including their neural underpinnings, have direct implications for the earlier and more accurate identification and more effective treatment of dyslexia. This presentation focuses on these discoveries and their translation into clinical practices for overcoming dyslexia and for appreciating the sea of strengths associated with dyslexia.


Click on the photos to watch the video, or download the mp3 audio files.