Fall Referendum Climate: Local Property Taxes & Income Growth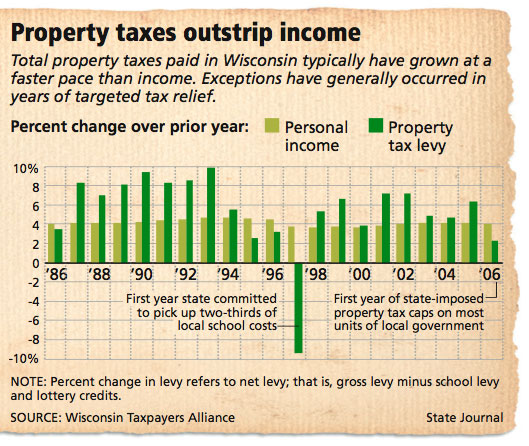 Voters evaluating the Madison School District's November referendum (construct a new far west side elementary school, expand Leopold Elementary and refinance District debt) have much to consider. Phil Brinkman added to the mix Sunday noting that "total property taxes paid have grown at a faster pace than income".
A few days later, the US Census Bureau notes that Wisconsin's median household income declined by $2,226 to $45,956 in 2004/2005. [Dane County data can be viewed here: 2005 | 2004 ] Bill Glauber, Katherine Skiba and Mike Johnson:
Some said it was a statistical blip in the way the census came up with the new figures of income averaged over two years.

"These numbers are always noisy, and you can get big changes from year to year," said Laura Dresser of the Center on Wisconsin Strategy.

David Newby, head of the state's AFL-CIO, didn't make much of the new numbers, either.

"My hunch is (wages) have been pretty stagnant," he said. "We have not seen major swings."

Others, though, seized on the data as significant. This is, after all, a big election year, with big stakes, including control of Congress and control of the governor's mansion in Madison.

U.S. Rep. Mark Green of Green Bay, the Republican candidate for governor, said in a statement that the data showed that "Wisconsin's families saw just about the biggest drop in their income in the entire country."

However, Matt Canter, a spokesman for Democratic Gov. Jim Doyle, said the census information "is totally inconsistent with other current indicators," adding that the Bureau of Labor Statistics shows an increase in average wages.
The complete census report can be found here
3.1MB PDF
:
This report presents data on income, poverty, and health insurance coverage in the United States based on information collected in the 2006 and earlier Annual Social and Economic Supplements (ASEC) to the Current Population Survey (CPS) conducted by the U.S. Census Bureau.

Real median household income increased between 2004 and 2005.2 Both the number of people in poverty and the poverty rate were not statistically different between 2004 and 2005. The number of people with health insurance coverage increased, while the percentage of people with health insurance coverage decreased between 2004 and 2005. Both the number and the percentage of people without health insurance coverage increased between 2004 and 2005. These results were not uniform across demographic groups. For example, the poverty rate for non-Hispanic Whites decreased, while the overall rate was statistically unchanged.

This report has three main sections - income, poverty, and health insurance coverage. Each one presents estimates by characteristics such as race, Hispanic origin, nativity, and region. Other topics include earnings of year round, full-time workers; poverty among families; and health insurance coverage of children. This report also contains data by metropolitan area status, which were not included last year due to the transition from a 1990-based sample design to a 2000-based sample design.
I'm certain there will be plenty of discussion on the state household income decline.
Links:
Posted by Jim Zellmer at August 30, 2006 6:23 AM
Subscribe to this site via RSS/Atom:

Newsletter signup | Send us your ideas