Budget Forum Audio / Video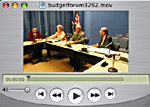 Rafael Gomez held a "Parent and Taxpayer Perspective on School Budgets" last evening. Participants included: Carol Carstensen, Peter Gascoyne, Don Severson, Jeff Henriques, Shari Entenmann, Jerry Eykholt and Larry Winkler. This 70 minute event is well worth watching (or listening via the audio file).
Carol discussed the "three legs" of school finance and passed around an article she wrote recently "State Finance of Public Education and the MMSD Budget" [112K pdf version];


Peter Gascoyne suggested that we embrace long term financial forecasts as a means to guide our planning. Peter also expressed doubts about any material change to state school financing of public education over the next five years (I agree with this assessment).


Don Severson mentioned Madison's historic strong financial support for public education and the need to be as efficient as possible with the District's $321M+ budget.
Audio [
mp3
] and
video
Posted by Jim Zellmer at March 30, 2006 5:51 PM
Subscribe to this site via RSS/Atom:

Newsletter signup | Send us your ideas