December 21, 2005
Wisconsin Taxes Rose 10% in 2005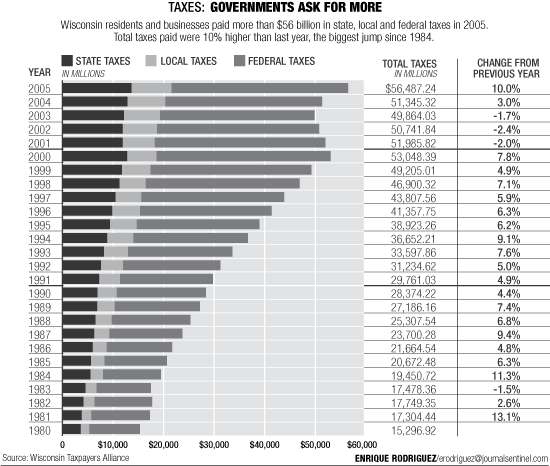 Wisconsin Taxes Set a Record: Residents and Business give 10% more:

Wisconsin residents and businesses paid a record $56.5 billion in state, local and federal taxes and fees this year, a 10% increase from last year and the biggest jump in more than two decades, according to a study by a non-partisan taxpayers group. = WISTAX

Wisconsin's total taxes rose 1.4 percentage points in 2005 to 32.0% of personal income
Net local property tax levies rose 6.3% in 2005. At 4.3% of personal income, 2005 net levies were at their highest level in 10 years.
Posted by Jim Zellmer at December 21, 2005 7:16 AM
Subscribe to this site via RSS/Atom:

Newsletter signup | Send us your ideas