PAGING RANDY ALEXANDER?
Or, What Is This Old Building Worth?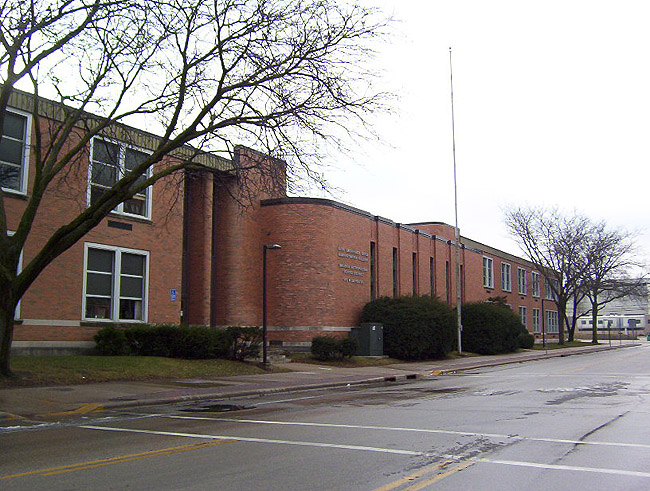 Photo of Washington Public Grade and Orthopedic School, 545 W. Dayton St., Madison Trust for Historic Preservation. To see where it is located, click here.
Complex problems require creative solutions. But what happens when innovative ideas don't get serious consideration?
This fall, the Madison School Board assembled two task forces to propose solutions to the knotty problems of shifting enrollments and facility use in the East and West/Memorial High School attendance areas. The people tapped to serve on the task forces have put in long hours and, in the process, have come up with some creative options that go beyond the "standard" proposals to close schools and/or move boundaries. Unfortunately, at least one credible idea for fully using space in East side schools with low enrollments has been taken off the table.
The proposal definitely represents "new thinking." Rather than closing schools that don't have "enough students," the proposal is to sell the Doyle administration building and relocate district administration to one or more of the under-enrolled schools on Madison's East side.
This idea makes sense. After all, the Doyle Building's West Dayton Street address is in prime real estate territory. It was built as an orthopedic facility and is handicap accessible; it has parking and is within close distance to the Kohl Center, UW-Madison campus, State Street, and the state capitol. The number of apartment and condominium projects within a four block radius of the Doyle Building during the past 5 years and the planned reconstruction of nearby University Square attest to the interest in building, rehabbing, and developing properties in central Madison.
So why not explore this option? Several members of the task force were given the impression that selling the Doyle Building is not a viable option. The arguments against selling the building sound plausible at first blush, but can they be verified by available information?
Assertion: The Doyle Building would be unattractive to developers because it is a historic building.
Facts: The Doyle Building is a Madison landmark. Decisions to deny demolition or modification of historic buildings can be and are routinely appealed to the Madison City Council. The building may be eligible for the National Register of Historic Places. If it were placed on the National Register and a private developer decided to rehab it, it would be eligible for state and federal tax credits (see resources below).
There are numerous examples of buildings that were similarly declared "unattractive to developers" and "impossible to rehabilitate" historic buildings in the area and that have been successfully restored to viable economic use. Consider the following projects within a few blocks of the Doyle Building: the Machinery Row commercial and office building, Doty School and Lincoln School Apartments: Lorraine Hotel, City Market, and Quisling Clinic Condominiums; and the Wiedenbeck Warehouse Lofts. Certainly the notion that there are no developers or businesses with an interest in commercial uses of historic buildings would be a stunning idea to Randy Alexander, Isthmus Architects, Historic Madison, Gary Gorman, Stonehouse Development, Arlan Kay, or any of a number of other professionals who are engaged in the thriving business of preserving historic buildings.
Assertion: UW-Madison, another potential buyer because of the building's proximity to the Kohl Center and the East end of campus, is not interested.
Fact: If one reads closely the report from Roger Price to Art Rainwater (November 18, 2005), UW-Madison has indicated a potential interested in the space but is unlikely to make a commitment until it has followed its own planning processes. Ironically, the university, which shares the Doyle Parking Lot with the school district, has just completed a 20-year plan that includes several projects to rehab existing historic structures. In any event, the UW-Madison answer does not appear to be an unqualified "no."
It may be that a sound analysis would conclude that selling the Doyle Building to a private developer or UW-Madison is a bad idea. The disturbing issue is that we will never know whether it is a viable option to sell, rent, rehab or raze this structure unless the proposal is put back on the table so that verifiable information can be used to decide whether the Doyle Building can and should be a part of the resolution to the district's enrollment and facilities problems.
____________________
Additional resources:
State Historical Society of Wisconsin architectural services web site with information on funding, including federal and state investment tax credits for income producing historic buildings.
http://www.wisconsinhistory.org/hp/funding.asp
Madison Trust for Historic Preservation documents from and press coverage of July 2005 Summit on Historic Preservation's role in Community Economic Development
http://www.madisontrust.org/news/index.html

____________________
Text, Memo from Roger Price to Art Rainwater November 17, 2005

November 18, 2005

TO: Art Rainwater, Superintendent
FROM: Roger Price, Assistant Superintendent – Business Services
RE: U.W. Interest in Doyle Administration Building

As a result of a meeting on Thursday, November 17, 2005, with Alan Fish, U.W. Associate Vice Chancellor, Facilities Planning and Management, and Gary Brown, Director, U.W. Planning and Landscape Architecture, the following is the status of the Doyle Building relationship with the U.W.-Madison:
**The Doyle Building is not within the University's official campus boundary set by the Board of Regents and is not included in specific plans in the recently completed 20-year master plan. The plan does designate land adjacent to campus, such as the Doyle Building, as joint planning areas with the city.
**If the Doyle Building was available for lease, the U.W. would have some interest, particularly if the lease included purchase at the end of the lease. The U.W. currently has no specific program need that would require using the Doyle Building.
**If the Doyle Building was available for sale, the U.W. would be interested in discussing; if there is interest, planning and acquisition would take a minimum of 4 to 5 years.
**The U.W. is aware of MMSD's desire to accommodate functional replacement in other central Madison spaces to house core District administration and operations.

bkl
Posted by Lucy Mathiak at December 5, 2005 9:35 PM
Subscribe to this site via RSS/Atom:

Newsletter signup | Send us your ideas