Why I Oppose the Administration's Recommendation for School Boundary Changes if the Leopold School Referendum Fails
On Monday, February 21, the Long Range Planning Committee of the Madison School Board will hear the administrationís explanation of five options for reducing overcrowding at Leopold School and providing seats for students from new housing developments on the west and southwest side of the district. Last Monday, after I asked the administration to withdraw options that it will not recommend, a set of nine options dropped to five. Of the remaining five options, the administration recommends only two choices. Option A (3A2 PDF) depends on passage of a referendum to build a second school building on the Leopold grounds. Option B (3D1 PDF) assumes that the referendum fails. Madison Schools Boundary Change web page.
I cannot support Option B, the fallback option in the event that the proposed Leopold referendum fails. There are important but unanswered questions about how the proposed school boundary changes would affect the middle and high schools on the west side. However, more compelling to me is that this option moves 1137 students to new elementary schools, including 516 low income students, and moves them in a way that will excessively disrupt many of the eleven affected schools.
It is difficult to measure the disruption to a school of students moving both in and out of the attendance area. Net changes in the school enrollments do not capture the impact of moving students in both directions.
For example, the current enrollment of Stephens Elementary School is 444 students. Option B moves 214 students to new schools. At this point only 230 ( 51%) of the current students remain at Stephens. Then Option B adds 100 new students from other schools and the enrollment rises to 330. The net change looks smalló90 additional students. However, 314 students have changed schools to make this adjustment. My approach gives Stephens a disruption rate of about 71%.
My chart compares the total number of students moved in and out of ten elementary schools on the west side to the current enrollments of those schools. I use the resulting percentage as a rough measure of disruption to the school. This approach demonstrates that the net change in students may be small, but the number of students changing schools is very large in proportion to the current size of the school in Option B. It is only a rough measure. However, the chart directs attention away from what appear to be minimal net enrollment changes to the impacts that families and schools will experience when coping with moves of students in and out of the same schools.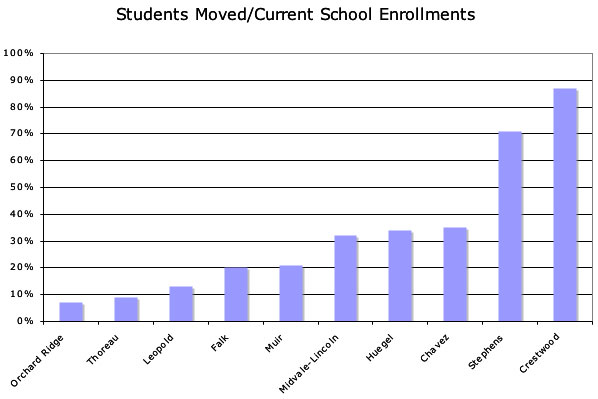 Option B also has an important impact on one east side school. It moves 120 students from Midvale-Lincoln School to Glendale Elementary School. Glendale School enrollment would increase from 267 to 387, a 45% increase in students in one year.
Posted by Ruth Robarts at February 20, 2005 02:02 PM | TrackBack