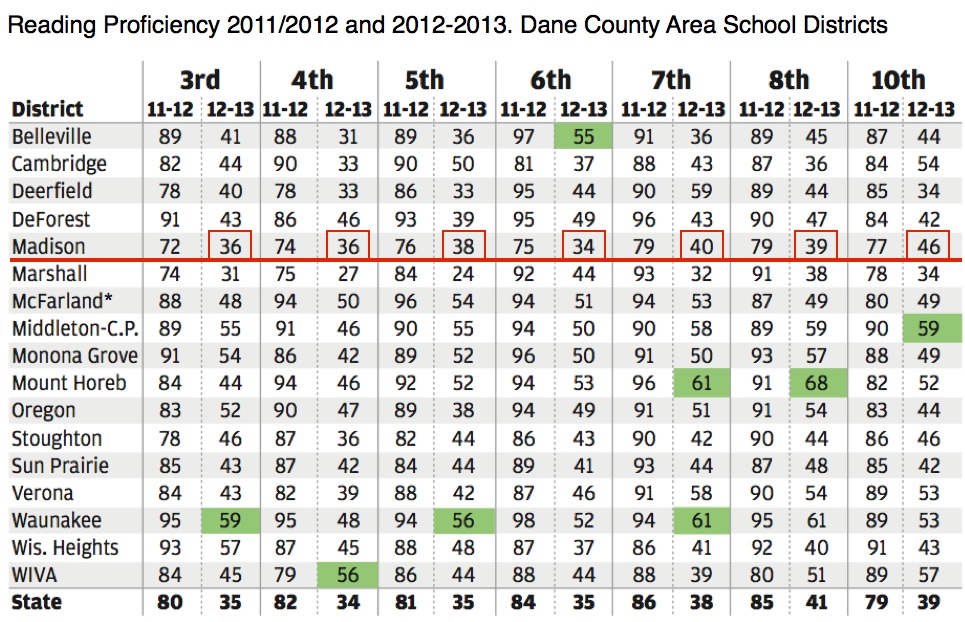 Tap or click to view a larger version.

Higher bar for WKCE results paints different picture of student achievement
Matt DeFour
Wisconsin student test scores released Tuesday look very different than they did a year ago, though not because of any major shift in student performance.
Similar to recent years, the Wisconsin Knowledge and Concepts Exam results show gains in math and reading over the past five years, a persistent and growing performance gap between black and white students, and Milwaukee and Racine public school students outperforming their peers in the private school voucher program.
But the biggest difference is the scores reflect a higher bar for what students in each grade level should know and be able to do.
Only 36.2 percent of students who took the reading test last October met the new proficiency bar. Fewer than half, 48.1 percent, of students were proficient in math. When 2011-12 results were released last spring, those figures were both closer to 80 percent.
The change doesn't reflect a precipitous drop in student test scores. The average scores in reading and math are about the same as last year for each grade level.
Instead, the change reflects a more rigorous standard for proficiency similar to what is used for the National Assessment of Educational Progress. NAEP is administered to a sample of students in each state every other year and is referred to as "the nation's report card."
The state agreed to raise the proficiency benchmark in math and reading last year in order to qualify for a waiver from requirements under the federal No Child Left Behind law. The benchmark did not rise for the language arts, science and social studies tests.
"Adjusting to higher expectations will take time and effort," State Superintendent of Public Instruction Tony Evers said. "But these are necessary changes that will ultimately help our schools better prepare all students to be college and career ready and link with work being done throughout the state to implement new standards."
Evers also called on the Legislature to include private voucher schools in the state's new accountability system.
He highlighted that test scores for all Milwaukee and Racine students need to improve. Among Milwaukee voucher students, 10.8 percent in reading and 11.9 percent in math scored proficient or better. Among Milwaukee public school students, it was 14.2 percent in reading and 19.7 percent in math.
Gov. Scott Walker has proposed expanding the state's voucher program, including to such districts as Madison.
Changes in Dane County
The state previously announced how the changing bar would affect scores statewide and parents have seen their own students' results in recent weeks, but the new figures for the first time show the impact on entire schools and districts.
In Dane County school districts, the percentage of students scoring proficient or better on the test dropped on average by 42 percentage points in reading and 25 percentage points in math.
Madison schools had one of the smallest drops compared to its neighboring districts.
Madison superintendent Jennifer Cheatham noted schools with a higher number of students scoring in the "advanced" category experienced less of a drop. Madison's smaller drop could reflect a higher proportion of students scoring in the top tier.
At the same time, Madison didn't narrow the gap between minority and white student test results. Only 9 percent of black sixth-graders and only 2 percent of sixth-grade English language learners scored proficient in reading.
"It reinforces the importance of our work in the years ahead," Cheatham said. "We're going to work on accelerating student outcomes."
Middleton-Cross Plains School Board president Ellen Lindgren said she hasn't heard many complaints from parents whose students suddenly dropped a tier on the test. Like Madison and other districts across the state, Middleton-Cross Plains sent home letters bracing parents for the change.
But Lindgren fears the changing standards come at the worst time for public schools, which have faced tougher scrutiny and reduced state support.
"I'm glad that the standards have been raised by the state, because they were low, but this interim year, hopefully people won't panic too much," Lindgren said. "The public has been sold on the idea that we're failing in our education system, and I just don't believe that's true."
Next fall will be the last year students in grades 3-8 and 10 take the paper-and-pencil WKCE math and reading tests. Wisconsin is part of a coalition of states planning to administer a new computer-based test in the 2014-15 school year.
The proposed state budget also provides for students in grades 9-11 to take the EXPLORE, PLAN and ACT college and career readiness tests in future years.
Superintendent Cheatham is to be commended for her informed, intelligent and honest reaction to the MMSD's results when compared to those of neighboring districts.
View a WKCE summary here (PDF).